My Udemy Course Content
I started teaching on Udemy in the beginning of 2016 and I absolutely love it. They offer a great platform to connect with students from all over the world. It is a nice way to help earn a living while sharing the art I enjoy to create.
If you are interested in any of my online courses please use the coupon codes below to access the content. I am always here if you have any questions or feedback for me.
__________________________________________________________________________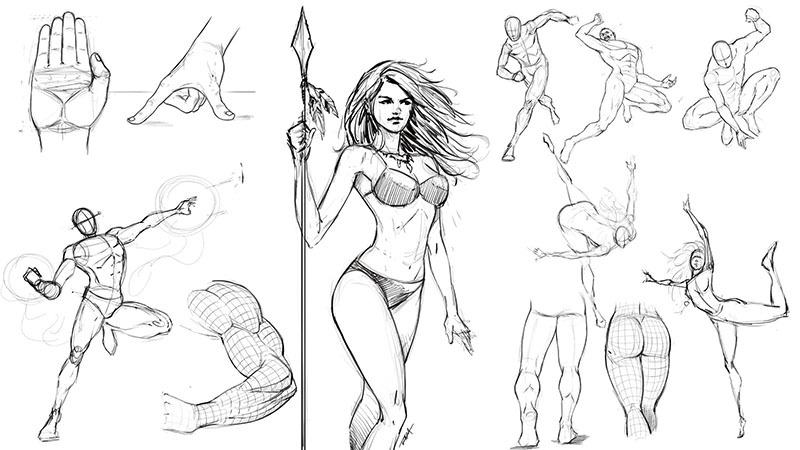 How to Improve Your Figure Drawing – Step by Step
This is a basic approach to figure drawing. This entire tutorial is 4.5 hours.  I share techniques that I have used over the years to create comic book illustrations and storyboards for television.  You will learn how to systematically break down the various parts of the body into simpler shapes.  As I illustrate each area step by step you will follow along and learn from my studies.  This will give you insight into how I create my artwork and create poses from the mind.  I also share what techniques I use to improve my knowledge of the human form.  Things like gesture drawings, timed studies of the pose, negative space drawing, foreshortening, perspective, organic versus angular lines, and much more.  You will also be given a copy of the art files as a downloadable PDF that I have created here so that you can work along and study from them.  By the end of this course you should be more confident in constructing your figure drawings from the  mind and have a better understanding of the human form.
You also get the Bonus lecture on How to Draw and Shade Muscular arms. In those lessons I go over 3 different arm poses with various rendering techniques.
The tips and tricks from this course will make the process of drawing complex body poses much easier to accomplish.  Good luck with your art!
Click here to take this Course – https://www.udemy.com/how-to-improve-your-figure-drawing-step-by-step/?couponCode=RAMSTUDIOSCOMICS101
__________________________________________________________________________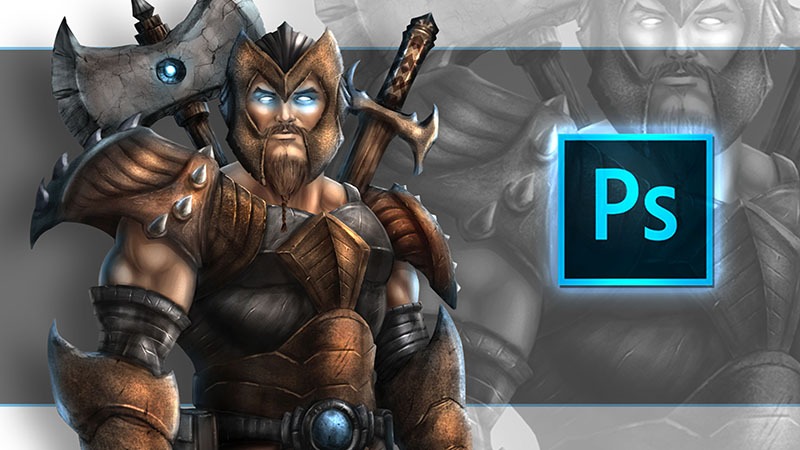 In this 6.8 hour course you will learn how to use Adobe Photoshop CC to better create your digital art. This course has 27 lessons that move you through the entire process of creating a fully rendered character in full detail. ( Bonus Content ) 3 Additional lectures on painting wood, fire, and ice. Run time is 45 Minutes and includes the PSD file to study from.
In the first section you will learn the tools  that I use and how I use them. You will learn about the layers and groups, the selections tools, dodge and burn, custom brushes and settings, blending modes, adjustment layers, layer styles, quick mask, and much more.
You will then move through the illustrative process with me from the rough sketch to the digital painting. We will start with a pre-drawn pose that I have supplied and we work out the concept from there.  You will learn how to rough sketch your ideas without jumping in too fast with refinements.
This course can be completed with any drawing tablet. I am using a Wacom Intuos 4 to create this art and although I will be mentioning things about that device you can use any tablet with pressure sensitivity. Mainly so the brushes will react in the way that I explain them.
I have designed this course to be a basic approach for beginner and intermediate digital painters to learn from. I created in the way that I would want to learn. This will not teach you everything about Photoshop but it will give you a firm understanding of how I use it to create my digital paintings every day.
Bonus Content – With this course you get all the art files and my full Photoshop custom brush set ( 50 Pack ) to work along with.
I am here if you have any questions and I would value your feedback so that I can continue to create better products for everyone. Thank you for your support. Good luck with your studies! 🙂
Click here to take this Course – https://www.udemy.com/digital-painting-in-photoshop-create-amazing-concept-art/?couponCode=RAMSTUDIOSCOMICS101