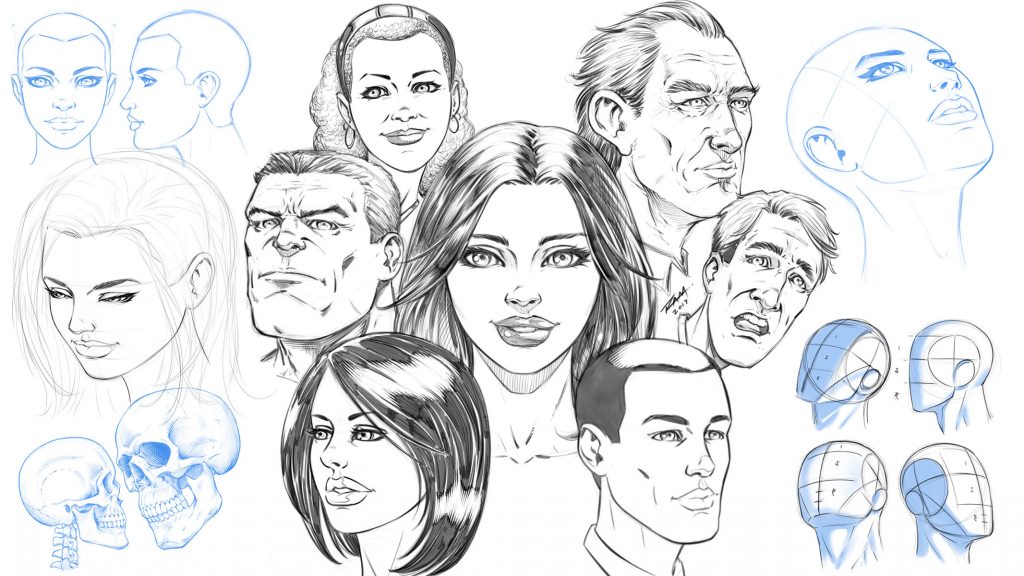 How to Draw Comic Style Heads – Step by Step – From Any Angle
In this Course you will learn how to draw heads from a variety of angles and different styles. You will learn how to break down the head into thirds with the "Adrew Loomis" method. This will make turning the head on the page much easier to accomplish. You will also learn techniques for mapping out the facial features of your character. We cover front, side, upward angle, downward angle, with both male and female faces.
You will also learn how to draw the heads of your characters with a less structured approach. This comes with practice but it can be very fun and expressive to do.
This course is 25 Lectures and the Run Time is 4hrs 14min.
You get all the Art Files in a single PDF Document at 300dpi to work along with.
NOTE – In this how to draw comics style heads course I reference other lessons that are available on my Gumroad or Skillshare. I talk about the lessons that teach you about drawing eyes, noses, mouths, etc. They are not part of this course but may help you if you need work on those specific areas.
Next the Project File!!
I would love your feedback on these how to draw lessons and I would also like to see your work! Complete the project file that I talk about in the Promo Video. Feel free to message me through Gumroad or Tag me in a post using Twitter or Instagram.
Instagram – @robert_marzullo
Twitter – @RobertMarzullo
Watch the Promo Video here – https://youtu.be/aS_JcZNpmVQ
I hope you find this course to be helpful and good luck with your studies! 🙂
Sincerely,
Robert A. Marzullo
Ram Studios Comics
www.ramstudioscomics.com